Birmingham Traffic Ticket Lawyer
Almost every driver has been there: You see the lights in your rearview mirror, you hear the siren, and you know you're about to get a ticket. In fact, getting a traffic citation is such a routine part of driving that many people think it's best to just pay the fine and avoid the bother of fighting it in court. But as many drivers have found, that's not always the best move to make. Law enforcement officers can make mistakes; getting a ticket doesn't mean you're guilty. And because paying a traffic ticket in Alabama means getting points on your license, your driver's license can be suspended after just a few tickets.
An experienced Alabama criminal defense lawyer with extensive experience in DUI defense and other traffic violations can help. He defends clients in Birmingham and throughout Alabama who want to fight their tickets for:
Speeding
Reckless driving
Failure to yield
Driving on the wrong side of the road
Passing a school bus with red lights flashing
Illegal passing or lane change
Tailgating
Running a red light, stop sign or other traffic signal
Equipment violations (broken or missing light, missing license plate, over-tinted windows, no registration)
Driving without insurance
Driving with a suspended or revoked license
Important Information about Your Alabama Traffic Ticket
Alabama traffic laws are different from those in some other states, and you should know about one particular difference:
In Alabama, a traffic violation is considered a criminal offense. In some of the states surrounding Alabama, a traffic charge is considered a civil matter, which does not carry the same harsh penalties that the same charge in Alabama might.
Why Fight a Traffic Ticket in Alabama?
All of these traffic tickets carry fines of $50 to several hundred dollars — but that's just the beginning of the costs of a citation. The State of Alabama's Department of Public Safety also puts two to six points on your license each time you plead guilty to traffic violations — and paying a ticket is considered pleading guilty. After you accumulate 12 to 14 points within two years, your license will be automatically suspended for 60 days. Higher numbers of points within the same two-year period can get your license suspended longer, for up to one year. (You can visit the DPS Web site for more details.)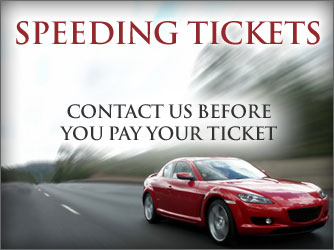 Losing a driver's license isn't just an inconvenience for many people; it's a radical lifestyle change that can cost them jobs, cause trouble at home and interfere with their personal lives. Reinstating it when the time is up is a bureaucratic hassle that costs $100 to $300. And whether you lose your license or not, points on your license will cost you when it's time to renew your auto insurance. Insurance companies remember the points on your license no matter how long ago you got them, so enough points can cause your insurance bills to skyrocket.
Fight Your Ticket
Fortunately, traffic tickets are far from the open-and-shut citations that law enforcement might like us to believe they are. For example, with speeding tickets, radar guns may not always work right, their users may not be trained properly, or officers may simply have guessed at your speed from watching you drive by. Reckless driving, which can be charged for excessive speed, tailgating or other offenses, may have been an unavoidable reaction to the actions of other drivers. In short, the evidence against you may have serious flaws that can cause the whole case to be thrown out. An experienced traffic violations attorney knows where to look for common mistakes in the officers' work and use them to get your ticket dismissed.
Handle "regular" speeding Tickets and other Alabama Traffic Tickets.
Handle tickets for speeding 26 over the posted limit.
Explain your options for avoiding a court appearance.
Handle traffic tickets of any kind for out-of-state clients.
Explain how a traffic violation may impact your commercial driver's license.
Offer valuable information on why Alabama is different from other states, especially considering the points system.
Give a clear picture of how Alabama traffic enforcement is handled by the state police.
Explain how the Take Back Our Highways campaign may have had a part in why you got a ticket.
Handle citations for other moving violations.
If you're facing the serious financial and personal consequences of a traffic ticket, don't plead guilty without calling us for a free consultation. He has handled many, many DUI cases and other traffic violations, so he understands how important it is to provide a vigorous, thorough defense to a traffic citation. He can explain your rights and your legal options; help you contest your ticket; and protect your driver's license. And because we offer free initial consultations, there's no pressure and no risk to speaking to him about the best course of action in your case.
Alabama Points System
Fight Every Ticket to Avoid Points
A conviction for any moving traffic violation will add points to your driving record. Remember, if you pay the ticket, you are pleading guilty and will be assessed points.
Accumulated points can lead to driver's license suspension.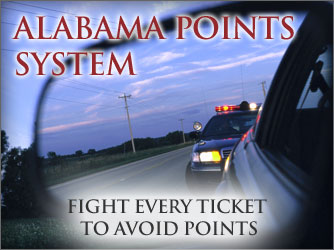 Many drivers think that a few points will not hurt them. While it is true that a few points will not risk your driver's license now, you do not know what the future will bring. You may receive another Alabama traffic violation tomorrow, next week, or in a year.
Paying a ticket may result in serious consequences in the future as well.
Under Alabama traffic law, if you get more than 12 points on your record within a two-year period, the Department of Public Safety may suspend your driver's license for up to one year. While one moving violation may only add a few points to your record, subsequent moving violations, reckless driving charges, speeding tickets, and other citations can add up.
Serious traffic offenses such as speeding over 86 miles per hour, reckless driving, or attempting to elude a police officer will hammer your driving record. Pleas of guilty to these offenses will add 5 or 6 points to your driver's license. One conviction of reckless driving will add 6 points to your license! These points add up quickly and can result in an Alabama driver's license suspension.
Alabama Traffic Enforcement
Aggressive Troopers = More Traffic Tickets
If you received a traffic ticket in Alabama, you likely got caught up in the current very aggressive enforcement of Alabama traffic laws. The Alabama Department of Public Safety has been cracking down on drivers breaking the "Rules of the Road."
With the Take Back Our Highways Campaign, law enforcement is putting more state troopers on the highways and issuing thousands more citations and speeding tickets than in previous years. In addition, fewer and fewer courts are willing to allow drivers an option to have their charges dismissed or reduced.
Speeding 26 Over Limit
Excessive Speeding
In Alabama, a charge for driving 26 miles per hour or more over the speed limit is an egregious offense and can have a serious impact on your insurance rates.
If you are charged with driving at an excessive rate of speed – you will be charged with a speeding or a more serious offense, and will be assessed 5 points on your driver's license.
Protect Your Rights
When you are faced with defending a criminal charge for speeding, reckless driving, driving while suspended, or any other traffic violation in Alabama, you can benefit greatly from the help of an experienced attorney.
Every Alabama Traffic Tickets client receives a prompt response and personal attention by a knowledgeable, well-trained team member and an experienced, licensed attorney — our Alabama speeding ticket lawyers will personally direct all aspects of your case. If you live out of state, we can help you get the best possible result for your traffic violation without your appearance in Court in most cases.
Alabama Traffic Tickets Lawyers handle speeding tickets and other traffic violations and moving violations for out-of-state clients and residents of Alabama, including clients in Jefferson County, Shelby County, St. Clair County, Bibb County, Walker County, Winston County, Cullman County, Blount County, Tuscaloosa County, Etowah County, Chilton County, Marion County, Cherokee County, Russell County, Mobile County, Calhoun County, Cleburne County, Madison County, Baldwin County, Lee County, Baldwin County and Talladega County, and the communities of Vestavia Hills, Hoover, Homewood, Mountain Brook, Bessemer, Pelham, Alabaster, Clanton, Union Town, Phenix City, Huntsville, Decatur, Florence, Gadsden, Tuscaloosa, Boaz, Albertville, Guntersville, Cullman, Montgomery, Columbus, Dothan, Auburn, Mobile, Anniston, Oxford, Talladega, Trussville, Gardendale, Harpersville, Chelsea, Pleasant Grove, and Northport.